Now We're Moving
RiverLink is all-electronic tolling. That means no toll booths, no coin machines, no lines and no stopping.
Open/Manage Account
Pay Tolls
Owe Tolls? Save Now and Later!
Have tolls owed lowered to transponder rates — and have late fees waived — when you open a RiverLink prepaid account online or by phone. This one-time offer is only available before a collection notice (4th notice) is received.
Plus, with our 24/7 online self-service, there is no need to speak to a customer service representative. All you need is your invoice, license plate and a credit card.
Tap this link, scroll to the "Invoices and Payment Plans" section, then enter your invoice number and license plate:
Pay Online
Click this link, go to the "Invoices and Payment Plans" section, then enter your invoice number and license plate.
RiverLink is the tolling system for the Louisville-Southern Indiana Ohio River Bridges Project. The project includes the new Abraham Lincoln Bridge in downtown Louisville (I­-65), the revamping of the existing Kennedy Bridge in downtown Louisville (also I­-65), a new Lewis and Clark Bridge connecting the extension of the Snyder Freeway (I­-265) with Southern Indiana (state road 265) and the rebuilding of the I­-65, I­-64 and I­-71 interchanges. View non-tolled alternatives.
See How It Works
Sensors and video cameras are placed on the tolled bridges. Drivers have the choice of using a transponder or having the system capture a photo of their license plate. Those who use a transponder and have a positive account balance receive the lowest rates. Learn more about how it works.
Tolling Options and Rates
1. Transponder
A transponder is an electronic device that typically is placed inside the front windshield of your vehicle. There are two types of RiverLink transponders. One type is a RiverLink local transponder that works only on the local tolled bridges within the Greater Louisville/Southern Indiana Metro area. Your first local tag per vehicle is free.
2. Registered Plate Capture
Those choosing not to use a transponder may open a prepaid account and register their license plate with the system. With each crossing, cameras will recognize the license plate and automatically deduct the proper toll from the account.
3. Unregistered Plate Capture
The third option requires no preregistration. Each vehicle's license plate is photographed and the owner is sent an invoice in the mail. This method has the highest tolls as administrative costs are highest.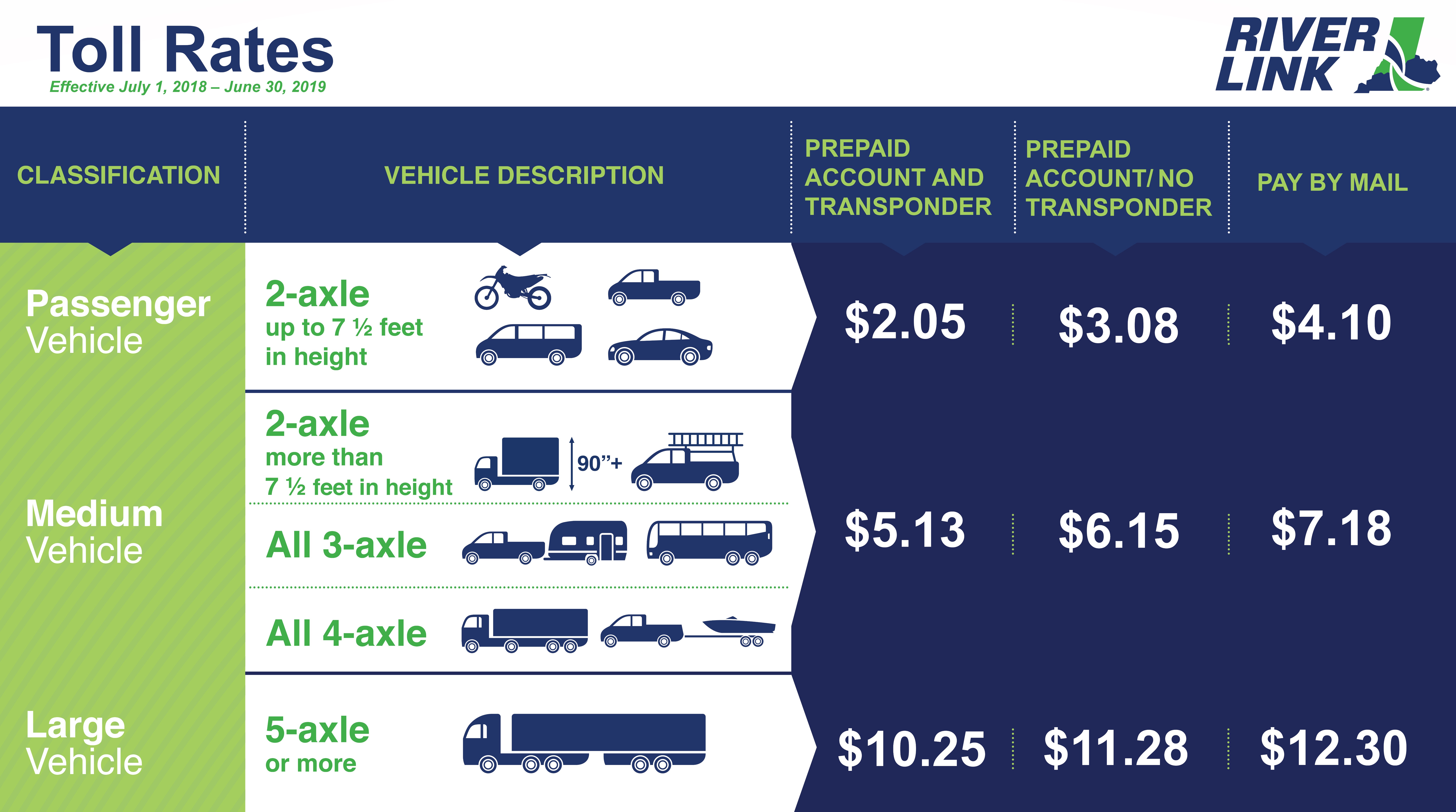 For passenger vehicles with roof top luggage, accessories, and/or cargo, if the height exceeds 7 ½ feet, you will be charged as a medium vehicle, $5.13 if you have a transponder. View more information on RiverLink tolling rates. Vehicles may be re-classified to a higher rate due to the height of cargo or due to pulling a trailer. These crossings do not qualify for the Frequent-User Discount.
Updates
Pay By Plate Allows Drivers to Pay Tolls Online Drivers using the tolled bridges connecting Louisville and Southern Indiana have a new option for paying tolls. Pay by plate allows drivers who do not have a prepaid account and transponder to pay tolls owed online,...
read more